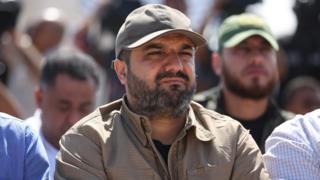 Israel has killed one of the most senior commanders of a militant group in the Gaza Strip in an air strike.
Baha Abu al-Ata, a leader of Palestinian Islamic Jihad (PIJ), died along with his wife when a missile hit their home, the group said.
Israel said Abu al-Ata was a "ticking bomb" who was planning "imminent terrorist attacks".
Rocket barrages were fired at southern Israel from Gaza in the wake of the killing, which PIJ has vowed to avenge.
A man was lightly injured when a rocket struck a main road in the Beer Tuvia area, north-east of Gaza.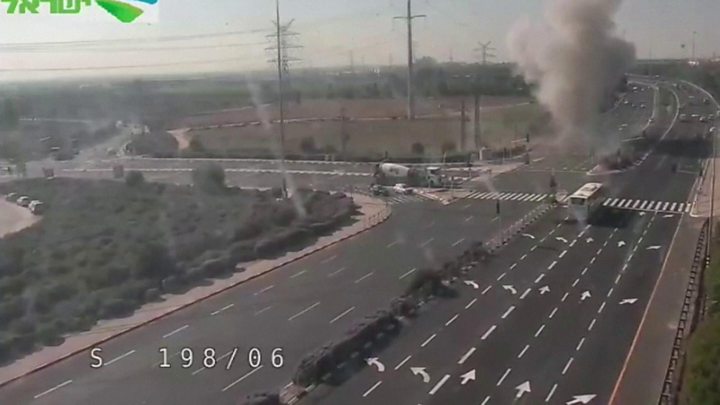 Medics said an eight-year-old girl was also in a serious condition after collapsing as her family rushed towards a bomb shelter when an air raid siren sounded in Holon, south of Tel Aviv.
PIJ, which is backed by Iran, is the second largest militant group in Gaza and has carried out many rocket attacks on Israel.
Around the same time as the attack on Abu al-Ata, two people were killed and 10 injured in an Israeli air strike on the home of another PIJ leader in the Syrian capital, Damascus, Syria's state news agency Sana said.
It was not clear if the leader, Akram al-Ajouri, was among the dead. Sana said his son Moaz was killed.
Israel has not commented on the report.
PIJ has its headquarters in Damascus and also operates in the Gaza Strip.
What happened?
Baha Abu al-Ata and his wife were killed as they slept on the third floor of a building in Shejaiya district of Gaza City, Palestinian sources said.
Palestinian health officials said four of their children and a neighbour were injured.
The Israeli prime minister's office said Abu al-Ata "was responsible for many terrorist attacks and the firing of rockets at Israel in recent months and had intended to carry out imminent attacks".
In the wake of his killing, about 50 rockets were from fired at Israel from Gaza, some of which hit the Israeli city of Sderot on the Gaza border.
Air raid sirens sounded throughout Israel, where a military spokesman said they were "preparing for a number of days of fighting".
Later, the Israeli military said its aircraft had targeted two militants from PIJ's rocket-launching unit, who they said "posed an immediate threat".
Gaza's health ministry said one Palestinian was killed and several were injured in an Israeli strike in northern Gaza.
The Palestinian militant group Hamas, which runs the Gaza Strip and is considered a rival of the PIJ, condemned Abu al-Ata's killing, vowing it "will not pass without punishment".
The flare-up marks a significant escalation in the conflict between Israel and Palestinian militant groups, which have fought each other in wars and cross-border skirmishes for years.